Maes
Here's an old post I made on the subject,

Posts: 15618
Registered: 07-06

But Game maker does have sample games and tutorials. Not exactly the same as a template, but pretty close (e.g. "generic platformer", "generic space shooter" etc.). Someone might find them good enough to just slap a few things on and call them his own "creations".

Plus, the built-in resources definitively classify as "templates". It's not like Doom's reuse of textures, because with Gamemaker you're supposed to be making a new game each time, right?

The point is, gamemaker-like systems are pretty much missing the point: (most) professional developers won't use them, favoring industry-standard APIs and Engines instead. Even amateur -but serious- game developers will prefer to develop their skills by learning to use said tool "the hard way", rather than learning on a toy system. I don't think "Game maker experience" would look good on any resume ;-)

So what are their intended target audience? They are always promoted as tools for people that want to make their own games but not learn how to code. Unsurprisingly, such packages fail even their intended users: no matter how much you simplify things for them, there's a limit beyond which they have to go advanced, if they don't want to churn out same-y template-based "games" and make an ass out of themselves, so even the "promise" behind such game-making systems is only a half-granted wish, at best.

The worst aspect, IMO, is that the users of such systems learn nothing actually useful or marketable about either programming or actual game development. It's pretty much like sitting in the passenger's seat of your family's car while your daddy is driving, and pretending to be driving yourself with one of those toy plastic wheels.

Most users will also be disappointed when they will start seeing that to really materialize their ideas, they'll have to go for the real deal, and not the programming equivalent of a set of play-doh or LEGO Duplo blocks (for babies).

Another programming equivalent is those super-simplified programmer environments which mask actual programming behind a GUI where you piece together statements with puzzle-like elements: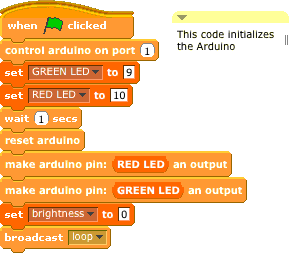 Very soon this reaches its limits, and sadly experience has shown that such environment are actually crippling to learning "true" programming languages, pretty much like BASIC was once considered crippling to beginner programmers (and painful to experienced ones...)

The equivalence with SLIGE is this: SLIGE promises you to make "professional looking" levels effortlessly, and in fact any monkey can churn out a "megawad" in seconds (with minimal customizations, maybe), and get it rejected on idgames or on WADS & Mods, along with receiving a lot of butthurt ;-)

But, SLIGE also allows you to do more sophisticated customization, allegedly giving much better results than thought possible...but do you know of any "skilled SLIGE manipulators" or mappers specializing in editing SLIGE maps into something unique? Right, no. Anyone with the will to make really good maps will sooner or later realize that manual map creation from scratch is the way to go, and that trying to improve their SLIGE-ing skills just puts them in a niche and teaches them nothing.