vdgg
MM2 maniac

Posts: 2055
Registered: 08-07

There is a table I created for myself, but as it may be useful to other people or they may find it interesting, I'll present it here.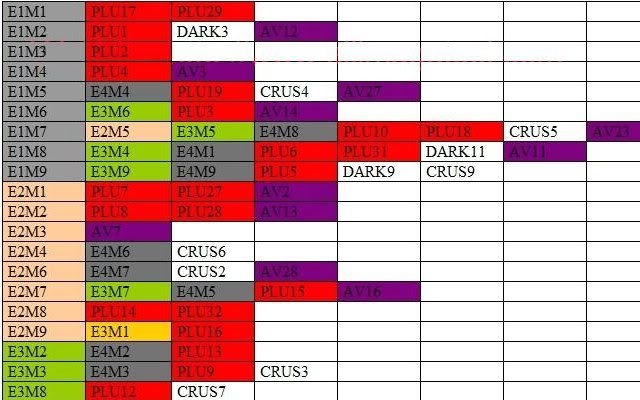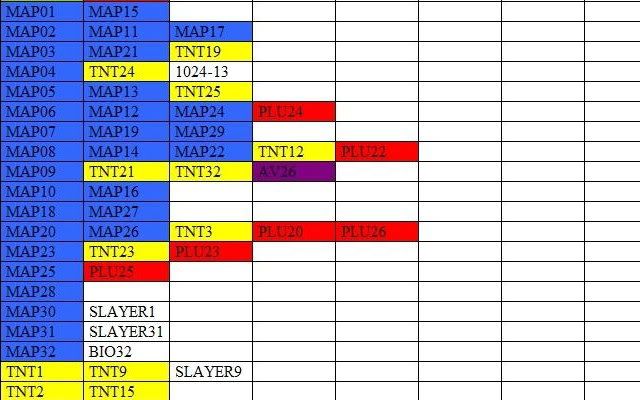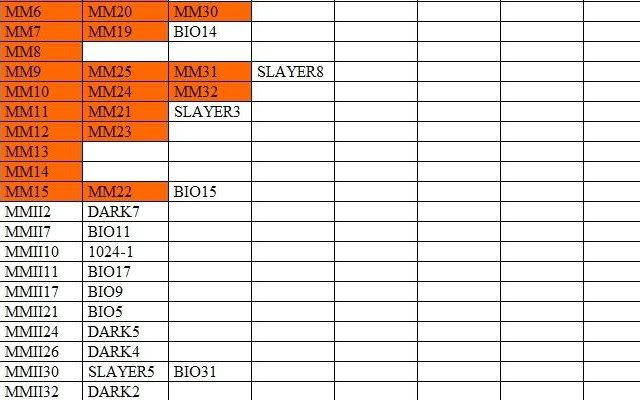 Legend:
1024 = Congestion 1024
AV = Alien Vendetta (2nd release)
BIO = Biowar
CRUS = Crusades
DARK = The Darkening
ExMx = Ultimate Doom
HR = Hell Revealed
INSRT = Insertion (insrtion.wad)
MAPxx = Doom II
MM = Memento Mori
MMII = Memento Mori II
PLU = The Plutonia Experiment
REQ = Requiem
SLAYER = Slayer
STRAIN = STRAIN
TNT = Evilution

"WAD levels song table" - not a catchy name, to be honest, so let me explain what's its purpose.

As we know, the total number of MIDIs used in DOOM levels is smaller then the total number of all the levels. I wanted to figure out which songs repeat themselves. I began with Doom II, Ultimate Doom and Final Doom. Then I added Alien Vendetta (which uses many tunes from Ultimate Doom and, surprisingly for me, also from Final Doom), later I added MM/MM2/Requiem/related WADS... Let's see an example.

The song which appeared first in "Phobos Anomaly" / E1M8 (Sign of Evil), appears also in Inferno (E3M4), Thy Flesh Consumed (E4M1), Plutonia (levels 6 and 31), The Darkening (level 11) and Alien Vendetta (level 11). It can be read in the 8th row in the table:
E1M8 - E3M4 - E4M1 - PLU6 - PLU31 - DARK31 - AV11

It's the same story with other songs included. The very left column is the first appearance in Doom (at least, 1st which is known to me).

A few comments:

- There are no song names, such as Sign of Evil. This is because when I think of a tune, I can associate it with a certain level, but I almost never rememeber the song name.
- The table is about Doom games, and only Doom. A tune may be from Duke Nukem, Rise of the Triad, may be composed by Mike Oldfield or Tchaikovsky, it is irrelevant here.
- Every song from Doom II, Ultimate Doom and Final Doom is listed here. A track from "Hunted" (level 11 from Plutonia Experiment) is in the leftmost column, although it comes from Ultimate Doom. Why? Because it was never used in the levels from Ultimate Doom.
- Alien Vendetta (2nd release) is included. There many levels omitted: 4,8,9,10,15,20,21,22,24,29,30,31. Either each level has its unique song or I don't know where they come from or where they appeared before.
- Every song from Memento Mori and Requiem is listed.
- Only songs from Memento Mori II that were used later on in other WADs are listed.
- STRAIN is not completed as for now.
- Hell Revealed: listing levels 20-32 doesn't make sense to me (they repeat the corresponding Doom II levels). I skipped most of the Rise of Triad tunes as well, leaving just two which appeared later in AV.
- I included a few WADs that use tunes listed in the above mentioned WADs: The Darkening, Biowar, Insertion, Crusades, Slayer. Also a few levels (only these borrowed from the above) from Congestion 1024.
- I could add more, but... if I included more WADs, there'll be more chaos. So that's it for now.
As you may see, I totally ignore such WADs like: Icarus, Eternal Doom, Darkening 2, Marswar, Vile Flesh... which show no music relationship with anything else I know, for example the music from Icarus was used exclusively in Icarus and the table's purpose is to show song relationships.

Feel free to comment, expand the list, use it in your web pages (pointing me as the author would be welcome). If you find any mistakes, suggestions, you want to share your knowledge with me (like, where is The Darkening level 6 music from??), I'd be grateful.