Mechadon
Forum Staple

Posts: 2719
Registered: 12-06

Hello again guys :). I haven't been making very much progress since my last update, thanks in part to Supplice and some other projects. But lately I've been trying to get back to this. I want to finish it this year so I'm going to try my best and push very hard to make that a reality.

But I have been very unmotivated to map lately. I don't think I've done any serious mapping for close to 3 months now, maybe more. So instead I focused on doing some graphic and sprite work. The first thing to note is that I now have tall skies for each map! This mean that ports with mouselook won't have to see a tiled sky and/or use "stretch short skies" (making the texture look terrible). While I was at it, I decided to redo a few sky textures...again :P

MAP01: Same base sky, but I decided to try out an unused earthy tree-covered-mountain graphic from Supplice for the foreground. I kind of like it! It gives off an Earth-base vibe, which was my original intention with the bright blue sky.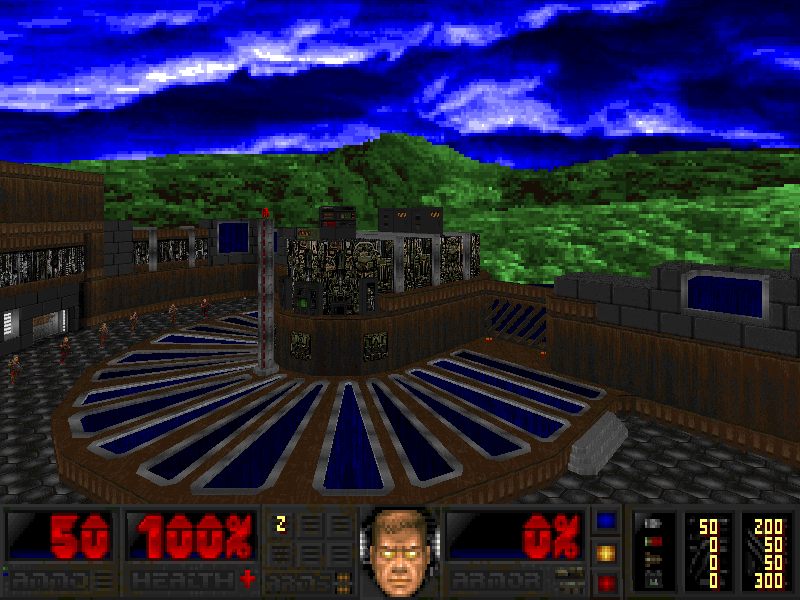 MAP02: The color and design are very similar to the previous texture, but I tried to make it a little less dithered-looking. Oh, and it's 240px tall now, which was my main concern.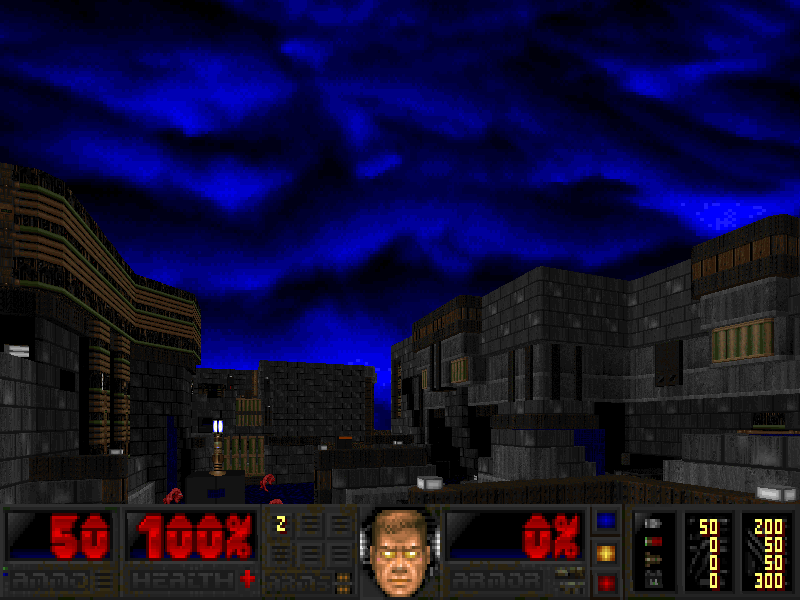 MAP03: I used part of the previous sky as a base for the new tall version of this one. I also added some desert~ish mountains for the foreground, which looks magnitudes better than the palette-raped mountains in the previous version.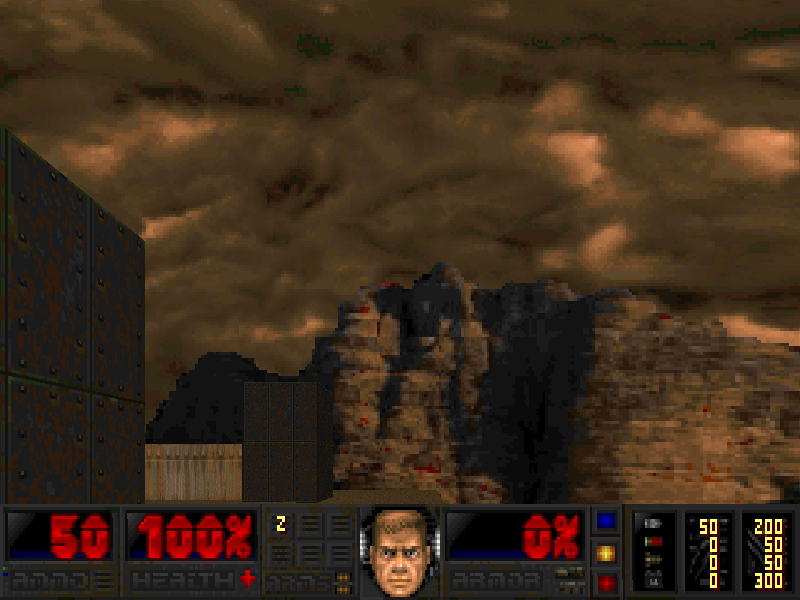 MAP04: I kind of liked the old one, but it had too much dithering. I was able to tone down the dithering a bit for this new sky, and I also recycled the mountains from the MAP05 sky for this one. I forgot to include the mountains in the foreground for the screenshot though, oops.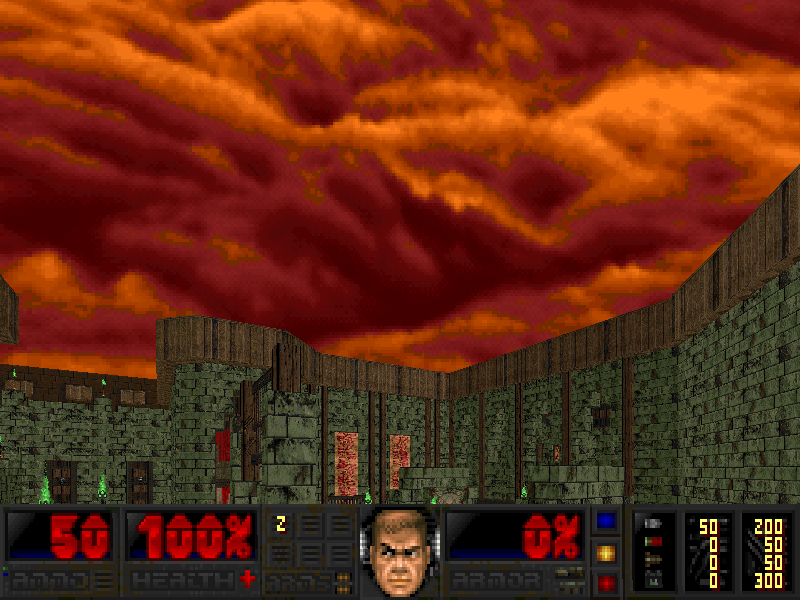 MAP05: Again, same base sky here because I really liked the original, but I was able to clone up to 240px tall. New mountains this time though. I tried to do some sort of hellish brimstone-looking mountains; you can't see them all that great in this shot though.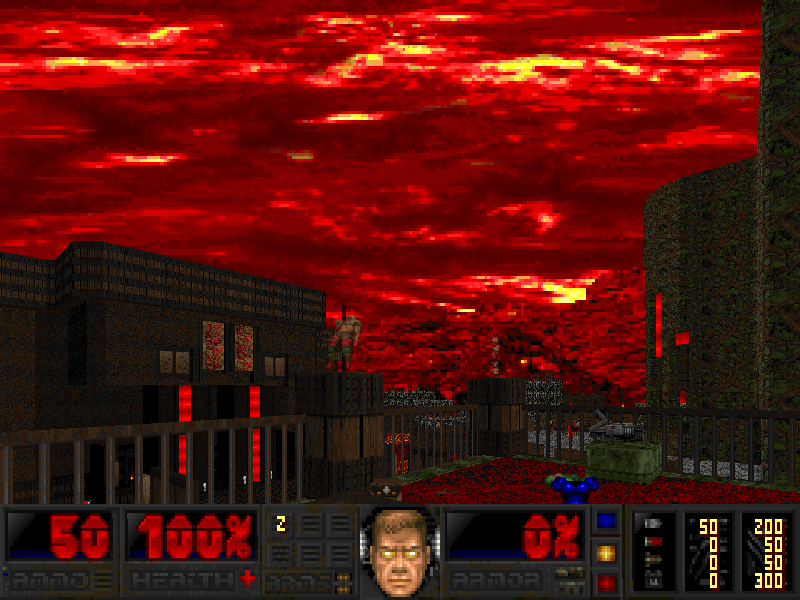 I also redid the MAP06 sky, but I haven't shown off any versions of it (other than what was in the beta). I'll hold off on it because it might spoil the ending a bit. Needless to say it is now 240px tall and I like it :P

Additionally, I had some unused sprites that I made for Supplice. So in order to give them a home, I decided to clean them up and use them!



The armors and health bonus are 100% from scratch. The armor bonus is a heavily edited Doomguy helmet, slightly inspired by the Doom 64 armor bonus. And the health packs are just edits of the vanilla sprites. I also added some slightly unused, yet animated, candle and candleabra sprites, also from Supplice. And you guys may also notice that the statusbar got some minor updates as well, including an updated background for the Doomguy mug (inspired by the BtsX statusbar for those with keen vision).

Oh wait, I've got more! I'm a bit of a font replacement nerd, so I decided to take a crack at making a font based off of the project logo. So there is an entirely new bigfont replacement and smallfont replacement, which I'm very happy with!

Lastly, after changing the Pistol to a Rifle in Supplice, I thought very hard about doing the same for Vela Pax. I gave it a try and I've decided to go through with it. I used some alpha Doom Rifle sprites that I scrounged from Realm667, and changed the behavior to fire like a slower chaingun. It's powerful enough to be useful over the Pistol, but is still weaker than pretty much every other weapon sans the Fist. I like how it doesn't feel as awkward as the Pistol though, and should be very helpful at the start of maps and also to snipe monsters from afar.

So yea, I've been pretty busy this past week working on all of this stuff. I have a few more things on my to-do list to keep me occupied before I start mapping again. But I really hope I can get out of my funk and work on MAP04 soon.

Anyways, as usual, let me know what you guys think about the new graphics :)